Sport Sensation!
Sport Sensation!
---
How cool is this ticket? It's from the 1955!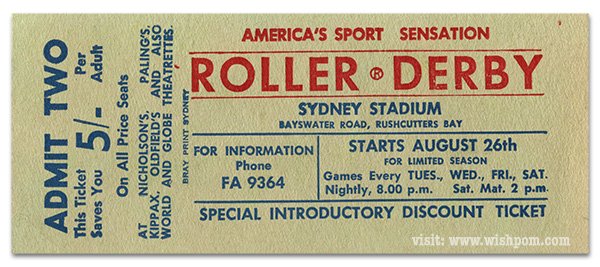 The Roller Derby will be the latest sensation to hit Sydney. The Roller Derby, which has taken the United States by storm, is another first for Lee Gordon, who is renowned for the standard of shows he has presented in Australia. The Roller Derby will be presented at the Sydney Stadium, and will feature the greatest speed skaters in the world. Both men and woman will take part, representing the States of New York and California.
I have a little collection of skate ephemera and imagery gathering speed. I adore skating. This love was firmly cemented in my childhood when I first saw Xanadu, bought some Hang Ten skates with my pocket money for $14 at Toyworld and rolled up and down the driveway singing ELO's I'm Alive! Now, some 30+ years later we're lucky enough to live very close to a fantastic rink where my girls are enjoying inline speed skating lessons and regular social skate nights. It's been a wonderfully welcoming experience for the whole family.
Roller Skating also fits neatly into my growing interest of Victorian and Edwardian era entertainment. But more on that later…