Lourdes Water, 1947
Lourdes Water, 1947
---
A few weeks ago I visited the Waverly Antique Bazaar and had a good fossick. When you step through the door it's hard to know which direction to tackle first, it's quite overwhelming! About half an hour in, on a small shelf deep into the warehouse, I spotted this tiny bottle. It only stands 5cm tall. While I am not Catholic, and not generally a collector of religious memorabilia,  I felt compelled to take it home. I will confess to having a little vintage souvenir collection growing, and a shelf full of tourist-ware, so I guess it sort of fits in a round-about kind of way. It fascinates me that almost 70 years ago, someone most likely bought this tiny bottle all the way back from the other side of the world. The water has long since evaporated (or been used?), however the sentiment is still there. I love that the bottle looks so quaint. It doesn't look mass produced like the ones you can now purchase over the Internet direct from the Lourdes Catholic gift shop. This little bottle looks very real. It looks magical. Full of hope. It's part of someone's story.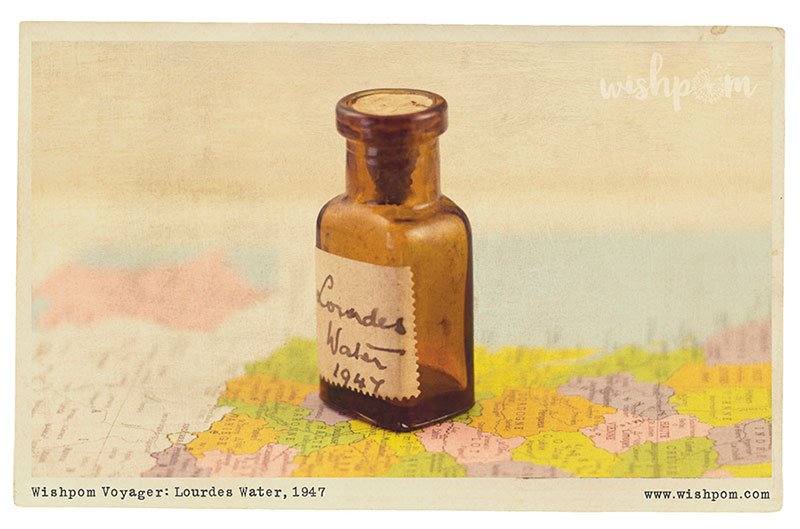 What is Lourdes Water?
Lourdes is in the Pyrenees south west of France. Lourdes Water is water collected from a spring that flows in the Grotto of Massabielle in The Sanctuary of Our Lady of Lourdes. Since 1858, when an apparition of Our Lady of Lourdes first appeared to 14 year old shepherd girl Bernadette Soubirous, millions of pilgrims from all over the world have traveled there to bath in the water and drink at the spring. The water is believed to have healing properties and improve health. The Catholic Church has recognised as many as 69 'true miracles'  after people have been healed after bathing in the spring.